What is permanent eyebrows makeup?
Permanent eyebrow makeup can be done with 2 methods with different results. Microblading it is hair technique of eyebrow lining consists in drawing individual eyebrow hairs, which leads to optical compaction and filling the gaps.
Powder eyebrows, on the other hand, create the appearance of eyebrow makeup.
To choose MICROBLADING or POWDER BROWS technique eyebrow is more suitable for you we recommend you to consult with our permanent makeup specialist. With permanent eyebrow makeup, you will reduce the time you spend on makeup every day.
How does permanent eyebrows makeup work?
When applying permanent makeup, the pigments (color) are applied to the upper layers of the skin, where they remain for one to four years. However, the duration of permanent eyebrows effect is very individual. It depends on the general condition of the skin in the area, where microblading or powdered permanent eyebrows is done.
We recommend to consult with a permanent makeup artist upfront about the selection of a suitable method or combination of both, that will show you possible results after applying permanent makeup. Before starting, it is also necessary to discuss with the specialist possible contraindications, such as pregnancy, oncological diseases or some skin diseases in the area where permanent make-up should be performed.
If you have already decided on permanent eyebrows, the specialist will choose a suitable pigment color for you and, using a pencil, pre-draw the shape of the eyebrows, which corresponds to the shape of your face.
All eyebrows permanent make up procedures take place after local anesthesia in this area, so you should not worry about pain, after twenty minutes of anesthetic cream, the specialist makes small incisions with a disposable blade imitating individual hairs on which the pigment is applied. For most clients, the whole procedure is almost painless.
The powder brows or so called ombre brows technique must first be applied to the main contours without applying anesthesia, but this sketch lasts only a few minutes and is not painful. Then the anesthetic cream is applied and the rest of permanent makeup is applied on the numb skin.
PAfter permanent makeup procedure, it is necessary to follow some measures to prevent excessive pigment loss in the skin, such as avoiding sunlight, solarium, swimming pool, sauna, etc. On the first weeks after application, as regular treatment using micellar water and a special nutritional-protective cream.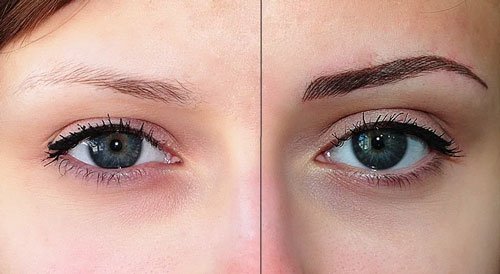 ---
Often after 4-6 weeks, permanent makeup needs to be corrected. During that final session, the shape and color of the eyebrows will be adjusted.