WHAT IS A PERMANENT MAKEUP LIPS?
Permanent makeup lips are created only with a lip liner contour of lips or a lip liner contour of lips and shading the lips. Every type has its advantages and advisability of the first or the second type; which would be explained to you by a permanent makeup specialist during a consultation.
Permanent makeup lips alows you to straighten up a little asymmetry on your lips, hide imperfections and lacklustre lip liner contour and highlight faded natural colour of lips. With permanent makeup lips you would abandon all everyday worries of carefully drawing lip liner and wearing lipstick, including repairing it after a meal or drink. Permanent makeup lips are like a lipstick witch you should not to solve a stamina.
How does the permanent makeup work?
Permanent makeup lips, also sometimes called tattooed lips, consisting in application pigments to the surface layer of a skin (less deep than tattoo), where after correction and the right care lasts one to four years. That stamina of permanent makeup is an individual thing depending on factors such as quality of your skin and skincare which a client is giving to their lips.
When choosing the congruent figure and the colour of a permanent tattooed lips we recommend to always consult with a permanent makeup stylist who is going to show you illustration pictures of permanent tattooed lips. We also recommend you take your favourite shade of a rouge, lipstick or a lip liner with you to a consultation to show a specialist which effect you really want to have.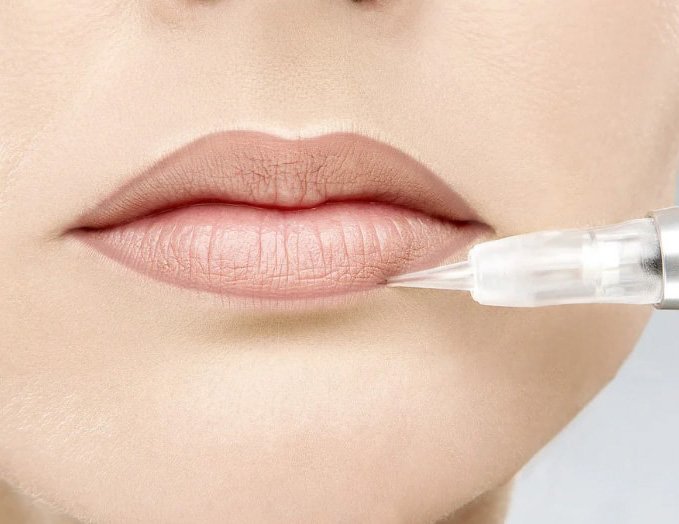 After that the specialist also consults the most frequent cases which should defer in application for permanent tattooed lips or affect the final effect. Especially pregnancy and nursing period, other hormonal changes, oncological illness and dermatological illness hitting area of permanent tattooed lips.
Single interposition of a permanent tattooed lips stays 2-3 hours. First a specialist suggests the figure of lips with lip liner and asks you if you are satisfied with it. The first draft is necessary to apply without an anaesthetic cream which should in a short-term affect texture of a skin. That stage lasts only a few minutes and it is not a painful. After that a specialist will apply an anaesthetic cream for the remaining duration of the procedure. It is necessary to take special care of a permanent tattooed lips; to not secrete a fresh staid pigment. Especially we recommend evading sun, pool, sauna and other similar places. The first weeks after application is also a necessary to wash lips with a micellar water and nursing area with a special nutritious and protective cream. With regard to sensitivity of lips area we recommend using vitamin supplements.
After 4-6 weeks it is possible to make a correction of a permanent makeup, where fixed figure and also fulness of lip colour can be adjusted.