PRP HAIR REGROWTH
How to promote hair growth? Hair Plasmotherapy contains blood plasma enriched with growth factors and proteins, helps to grow new hair and positively affects the health of the scalp.
PRP HAIR REGROWTH

PRP THINNING HAIR TREATMENT

Scientists are working on a new ways in which to treat thinning hair or receding hairline. Hair plasmotherapy (PRP) - injections containing the persons own blood is injected into the scalp. Your own blood plasma enriched with hair growth cocktail is the main stimulator of skin cell growth, and also contributes to the launch of internal regenerative processes. This method is considered not only high-quality, but also safe, since it does not provoke allergic reactions or rejection. PRP therapy helps to reduce hair loss, while stimulating the growth of new ones. a noticeable restoration of the protective barrier of the skin is observed. This is a bit painful, but very effective procedure. Due to the use of your own plasma, this method is suitable for allergy sufferers as well as people with very sensitive skin.
We have been working in the field of beauty since 2011.
Indications and benefits of prp hair restoration

restoration of "sleeping" hair bulbs
hair follicles strengthen
WHAT DOES THE PRP HAIR TREATMENT INVOLVE?

It is recommended to consult with experienced dermatologist in our clinic. Before the procedure, the patient should be informed of possible complications and sign a consent to the procedure.
The entire process of PRP Therapy procedure is donating blood to yourself. You will sit in a chair and a nurse will draw between 60 ml of blood from your arm. Under sterile conditions after about 10 minutes in the centrifuge, your blood will have separated into in three layers: platelet-poor plasma, platelet-rich plasma, red blood cells
Before the introduction of the PRP cocktail, the scalp is treated with an antiseptic solution. Aesthetic cream is applied 20 minutes before the procedure, if possible. By using your own blood, the procedure is as safe as possible.
After that, the doctor, using a thin needle, carefully injects the enriched Platelet Rich Plasma (PRP) into the desired area. These cells promote the hair growth and healing process in your scalp. Overall treatment takes 30-60 minutes depending on the size of the treated area. Immediately after the procedure, the antiseptic solution is again treated. To obtain a stable effect, 2-4 procedures are necessary (depending on the desired result).
PRP HAIR REGROWTH TREATMENT PRICES

Before treatment we recommend to do a consultation with doctor at our clinic.
PRP hair injection is an effective and safe treatment with visible results without the use of any chemical or artificially synthesized substances and preparations, due to the unique resources of your own body. Plasma therapy has established itself as one of the most effective procedures in solving hair loss problems. This is the only highly effective procedure for androgenic male pattern baldness!
| | |
| --- | --- |
| Consultation (deducted from the cost of the 1st procedure) | |
| PRP hair therapy 1 cocktail | |
| PRP hair therapy 3+1 free (you save 3 900 Kč!) | |
PRP hair treatment
PRP HAIR TREATMENT BENEFITS
Platelet-rich plasma (PRP) is a safe method. No chemicals or artificial substances are used. Since the patient's own blood is used to create the treatment, there is no risk of complications, allergy or contamination.
At the same time, plasma is a source of basic growth factors, it guarantees you to support growth and restore hair density.
Can be applied all year round. It addresses the cause of the male pattern baldness.
"Looks good. I recommend the Beautyshape clinic. There are experts here, the staff is very helpful. I had problems with hair loss. I want to keep my hair as long as possible, so I decided to take extra care of my scalp. And they really take care of you here." Petr R.
PLAZMATERAPIE PŘÍNOSY A JEJÍ VLIV NA RŮST VLASŮ
PRP BENEFITS. ITS EFFECT ON HAIR GROWTH
Convenience: PRP hair treatment does not require any downtime or recovery. You can drive and return to your normal activities immediately after the procedure;
At the same time, PRP is a source of major growth factors, it will support the hair growth and restore the hair density. You will see the visible results of natural hair regrowth can be seen within three months of the treatment.
"My hair started falling out after my 45th birthday and here at BS Clinic they helped me regain my confidence. My own plasma therapy was recommended to me with regard to my allergies. I have had 2 sessions and I must say that the results are beyond my expectations. I recommend the clinic and the treatment." Marie C.
How to prepare yourself for PRP treatment?
Two days before the treatment it is better to abandon the use of spicy, salty, fried, fatty foods, tonic drinks (strong tea, coffee, alcohol). Start drinking plenty of fluids. Five hours before PRP completely refuse food, only a light breakfast (carbohydrate) is possible.
One PRP hair treatment will be enough to see the results?
Biorevitalisation & redermalization
YOU MAY ALSO BE INTERESTED

Mesotherapy hair loss treatment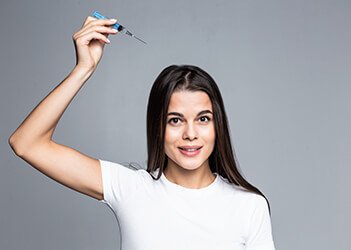 Mesotherapy hair loss treatment
Hair mesotherapy is the newest treatment that is very popular all over the world for women and men. This is an effective method for problems with hair loss or androgenic alopecia. It also acts as a hair loss prevention.
WE ALSO ACCEPT VOUCHERS FROM OUR PARTNERS
STILL HAVE QUESTIONS ABOUT THE PROCEDURE?
Fill in the form bellow and our managers will call you back