You face looks always tired with "eye-bags" or a hooded appearance of the droopy upper eyelid skin? Refresh the eyes with upper eyelid surgery (Upper Blepharoplasty). Fast recovery. Get back a younger look!
What is Upper Lid Blepharoplasty?
Droopy upper eyelids are just one of those signs and can have a significant impact on the way you look. Blepharoplasty is a surgical procedure in which the eyelid skin, orbicularis oculi muscle, and orbital fat are excised, redraped, or sculpted to rejuvenate the esthetic look of the patient along with correction of any functional abnormality.
Upper eyelid surgery, also called upper eyelid lift surgery or blepharoplasty, is a procedure to correct the puffiness, sagging and drooping of the upper eyelid skin. It is often performed to improve the appearance of your upper eyelids to give you a more youthful and refreshed look.
In upper eyelid blepharoplasty, a fine incision is made in the pre-existing crease above each eye. A crescent of excess skin is then removed, as well as all fat (puffiness) that is present. The incisions are then closed with fine stitches, which are removed in one week.
Indications & benefits of upper Blepharoplasty
Excess, baggy eyelid skin that in severe cases may interfere with vision;
The ageing process. Skin loses its elasticity. Slackening of muscle resulted in fat depositions in the eyes sockets to give the appearance of bagginess
Removal of excess skin and fat of upper eyelids. A more attractive lid contour.
A fresher, more rested younger appearance of the face.
Elimination of the omission of the eyes corners
Upper eyelid surgery. Treated areas
Upper lids of the eyes
Upper eyelid surgery. What does it involve?
On your first visit to the clinic, you'll have a one-to-one consultation with your doctor to discuss your condition and the best medical procedure for you. We will examine your eyes to ensure that you are suitable for treatment. Eyelid reductions can be carried out under local anaesthetic.
The operation time of the upper and lower eyelids usually takes 40-50 minutes. Surgeon makes a cut (incision) along the eyelid crease, removes excess skin, fat or muscle and closes up the incision. The scar will be 100% hidden in the natural fold of the eyelid;
The procedure is performed in local anesthesia, because especially in lower eyelid surgery, doctor needs a verbal communication with a patient. We use the most modern techniques for eyelid surgery, including a special radio wave scalpel, so rehabilitation time after this procedure is minimal.
Approximately 6 days later there will be another visit to assess the healing and to remove your sutures. Postoperative bruising usually takes at least 2-3 weeks to subside completely. Swelling takes longer but mostly disappears after 3-4 weeks.
Upper eyelid surgery (Blepharoplasty) price
Blepharoplasty is known to be beneficial for cosmetic and vision reasons and have long-lasting results. An Upper Blepharoplasty is a skilled procedure and we would recommend to start with a consultation vists at our clinic. You will meet our experienced doctor, who has performed numerous blepharoplasties during his 15 years as an ophthalmologist.
Consultation (deducted from price of I. treatment)
1000 Kč
Upper Blepharoplasty for BOTH EYES
10 000-12 000 Kč
Post operation review visit with Surgeon
Free
---
Our rule - everything is included without any extra payments!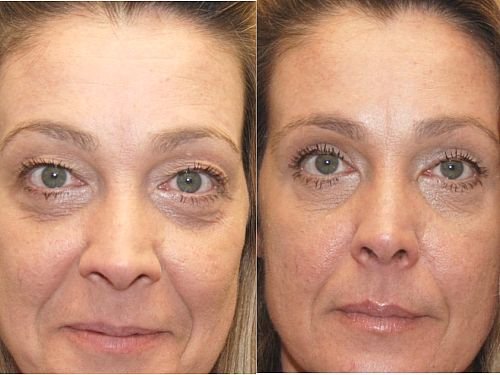 Upper Blepharoplasty advantages
Diminishes redundant skin that causes eyelid drooping;
Removes excess fat and/or puffiness in the upper eyelids;
Improves field of vision
Upper Blepharoplasty
decreases an intraocular pressure;
no visible scarring;
almost no risk of post operation complications.
Upper Blepharoplasty
More youthful, energized appearance of the eyes.
Wrinkle reduction around the eyes
Smoother forehead due to eliminated a brow-bunching habit;
Upper Lid Blepharoplasty FAQs