UPPER EYELID SURGERY
You face looks always tired with "eye-bags" or a hooded appearance of the droopy upper eyelid skin? Refresh the eyes with upper eyelid surgery (Upper Blepharoplasty). Fast recovery. Get back a younger look!
UPPER EYELID SURGERY

WHAT IS UPPER LID BLEPHAROPLASTY?

Droopy upper eyelids are just one of those signs and can have a significant impact on the way you look. Blepharoplasty is a surgical procedure in which the eyelid skin, orbicularis oculi muscle, and orbital fat are excised, redraped, or sculpted to rejuvenate the esthetic look of the patient along with correction of any functional abnormality.
Upper eyelid surgery, also called upper eyelid lift surgery or blepharoplasty, is a procedure to correct the puffiness, sagging and drooping of the upper eyelid skin. It is often performed to improve the appearance of your upper eyelids to give you a more youthful and refreshed look.
In upper eyelid blepharoplasty, a fine incision is made in the pre-existing crease above each eye. A crescent of excess skin is then removed, as well as all fat (puffiness) that is present. The incisions are then closed with fine stitches, which are removed in one week.
We have been working in the field of beauty since 2011.
INDICATIONS & BENEFITS OF UPPER BLEPHAROPLASTY

Excess, baggy eyelid skin that in severe cases may interfere with vision
The ageing process. Skin loses its elasticity. Slackening of muscle resulted in fat depositions in the eyes sockets to give the appearance of bagginess
Removal of excess skin and fat of upper eyelids. A more attractive lid contour
A fresher, more rested younger appearance of the face
Elimination of the omission of the eyes corners
UPPER EYELID SURGERY. TREATED AREAS

UPPER EYELID SURGERY. WHAT DOES IT INVOLVE?

On your first visit to the clinic, you'll have a one-to-one consultation with your doctor to discuss your condition and the best medical procedure for you. We will examine your eyes to ensure that you are suitable for treatment. Eyelid reductions can be carried out under local anaesthetic.
The operation time of the upper and lower eyelids usually takes 40-50 minutes. Surgeon makes a cut (incision) along the eyelid crease, removes excess skin, fat or muscle and closes up the incision. The scar will be 100% hidden in the natural fold of the eyelid;
The procedure is performed in local anesthesia, because especially in lower eyelid surgery, doctor needs a verbal communication with a patient. We use the most modern techniques for eyelid surgery, including a special radio wave scalpel, so rehabilitation time after this procedure is minimal.
Approximately 6 days later there will be another visit to assess the healing and to remove your sutures. Postoperative bruising usually takes at least 2-3 weeks to subside completely. Swelling takes longer but mostly disappears after 3-4 weeks.
Před ošetřením doporučujeme absolvovat konzultaci s lékařem na naší klinice.
Operace horních víček je vyhledávaným zákrokem nejen z důvodů estetických. Plastiku horních víček často doporučují oční lékaři při zhoršení zraku vlivem kožní řasy zasahující do zorného pole. Na naší klinice doporučujeme nejprve se objednat na konzultační schůzku, kde se setkáte s naším lékařem, odborníkem přes oftalmologické zákroky s patnáctiletou praxí.
| | |
| --- | --- |
| Consultation (deducted from the price of 1.treatment) | |
| | |
| | |
VÝHODY OPERACE DOLNÍCH VÍČEK
VÝHODY OPERACE HORNÍCH VÍČEK
Viditelné omlazení obličeje
Rychlý a profesionální způsob odstranění povislých víček
Zákrok probíhá v lokální anestezii
"Výsledek zákroku hodnotím velice kladně. Celkově mi vylepšil výraz obličeje. Líp se mi i čte. Rekonvalescence byla rychlá, až mě to překvapilo. Jizva už skoro není vidět. To se musím hodně zaměřit, abych ji našla. I okolí moji proměnu hodnotí pozitivně. Služby kliniky Beautyshape doporučuji." Tamara B.
VÝHODY OPERACE HORNÍCH VÍČEK
VÝHODY OPERACE HORNÍCH VÍČEK
Výsledek operace je dlouhodobý
Používáme velmi jemné netraumatické šití, které minimalizuje vznik jizev
Operace trvá přibližně 45 minut
"Velmi doporučuji Beauty Shape Clinic. Potřebovala jsem plastiku horních víček kvůli kožní řase, která mi zhoršovala vidění. Nebyl to jenom estetický problém. I když jako žena se samozřejmě chci líbit. Zákrok proběhl v místním znecitlivění a hojení bylo úplně bezproblémové." Olga C.
VÝHODY OPERACE HORNÍCH VÍČEK
VÝHODY OPERACE HORNÍCH VÍČEK
Pomůže v zlepšení vidění a rozšíření zorného pole
Operace je ambulantní, pacient po ní odchází domů
Rádi Vás objednáme na osobní nezávaznou konzultaci s odborníkem
"V srpnu jsem absolvovala operaci horních víček na klinice BeautyShape. Dlouho jsem se k zákroku odhodlávala, měla jsem samozřejmě obavy, ale teď vím, že byly naprosto zbytečné. Celý tým je prostě úžasný a příjemný. Celý zákrok trval cca 40 minut a vše proběhlo v lokální anestezii. Vůbec nic mě nebolelo, občas jen lehce tahalo. Navíc jsme si během zákroku příjemně povídali. Domů jsem odcházela se zalepenými víčky, ale koukat jsem mohla. První den jsem dodržovala klidový režim a ledovala jsem, ale k mému překvapení mě ani později nic nebolelo. Modřiny jsem neměla vůbec žádné, od 3. dne jsem mohla jít do práce. Náplasti jsem měla na očích týden, ke konci to už bylo trochu nepříjemné, ale dalo se to vydržet. Po týdnu mi stehy vyndali. Jizva je na obou očích velmi tenká. Nyní po měsíci si už jen užívám skvělého výsledku..... Jsem nadšená, úplně jsem prokoukla. Paní doktorce patří moje velké poděkování, je opravdu moc a moc šikovná, mohu jen doporučit!!! Návštěva kliniky Beauty Shape je pro mě vždy pohlazením na duši." Zuzana C.
Upper Lid Blepharoplasty FAQs

Who is suitable for upper eyelid surgery?
Anyone who has hooding or excess skin, uneven upper eyelid crease, protruding fat or droopy upper eyelids is a good candidate for upper eyelid surgery. These unappealing features can make you appear tired, sleepy and worn out.
What are the risks and possible side effects of upper eyelid surgery?
Will upper eyelid surgery leave scars?
What is Asian blepharoplasty or Double Eyelid Surgery?
Self-care at home after blepharoplasty?
Biorevitalisation & redermalization
YOU MAY ALSO BE INTERESTED

Blepharoplasty eyelid surgery
Blepharoplasty eyelid surgery
Blepharoplasty is a Cutting-edge eye surgery and one of the most effective ways to give your entire face a fresh, radiant appearance. Incredible results with minimal downtime, inconvenience or scarring.
Lower eyelid surgery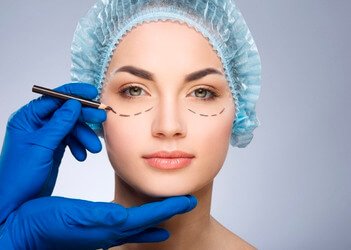 Puffy eyes bags under eyes? Lower eyelid surgery is an answer. Quick rehabilitation. Bring back a younger look of your eyes and a fresher appearance of your face!
WE ALSO ACCEPT VOUCHERS FROM OUR PARTNERS
STILL HAVE QUESTIONS ABOUT THE PROCEDURE?
Fill in the form bellow and our managers will call you back