LOWER EYELID SURGERY
Puffy eyes bags under eyes? Lower eyelid surgery is an answer. Quick rehabilitation. Bring back a younger look of your eyes and a fresher appearance of your face!
LOWER EYELID SURGERY

WHAT IS LOWER EYELID SURGERY (BLEPHAROPLASTY)?

Feeling like you look older and more tired than you feel can be devastating to your self-esteem and confidence. If aging has caused bags and puffiness to appear beneath your eyes, then eyelid surgery can rejuvenate the lower eyelids to a younger, fresher appearance.
In lower lid surgery, an incision will be made either in your lower lash line or on the inside of the lower lid effectively hiding any scar. Though each procedure will vary based on the patient's needs, typically, lower eyelid surgery involves the removal of excess skin, fat, or both tissues from the lower eyelid and area just above the cheek. The purpose of the procedure is to form a nicely defined lower eyelid that is healthy in appearance.
Typically, lower eyelid surgery is performed under local anesthetic (sometimes in combination with a sedative)
We have been working in the field of beauty since 2011.
INDICATIONS AND BENEFITS OF LOWER LID BLEPHAROPLASTY

Bags beneath your eyes. Fines lines on the lower eyelid
Excessive fat deposits beneath the eyes
A fresher, more rested appearance
A more attractive lid contour
LOWER BLEPHAROPLASTY TREATED AREAS?

WHAT DOES LOWER BLEPHAROPLASTY INVOLVE?

During your first visit to the clinic, you'll have a one-to-one consultation with your doctor to discuss your health condition and the best way to perform a lower eyelid surgery for you. Before the treatment, we will also take photos for our medical records.
The first 24 - 48 hours after the blepharoplasty, the patient puts ice compresses and keeps the resting life mode. We use the most modern techniques for eyelid surgery, including a special radio wave scalpel, so rehabilitation time after this procedure is minimal.
The procedure is performed in local anesthesia, because especially in lower eyelid surgery, doctor needs a verbal communication with a patient. Usually the lower lid blepharoplasty takes only 40-50 minutes.
Stitches are usually removed on day 6. Patients can usually return to their normal day-to-day activities in 2 – 7 days after the procedure, enjoying the long-lasting rejuvenating results of the Blepharoplasty procedure. However, physical and sports activities are not recommended in the first 3 weeks after lower eyelid surgery.
Before treatment we recommend to do a consultation with doctor at our clinic.
Lower eyelid surgery can involve skin incisions directly below the lash line or an incision on the inside of the eyelid. It's a good idea to discuss your plans with your GP first. There might be a medical condition affecting your eyelids or a reason why the operation isn't appropriate for you. Before treatment we recommend to do a consultation with doctor at our clinic.
| | |
| --- | --- |
| Consultation (deducted from the price of 1.treatment) | |
| | |
| | |
VÝHODY OPERACE DOLNÍCH VÍČEK
ADVANTAGES OF LOWER EYELID SURGERY
Visibly rejuvenated look of the face
Quick and professional way to remove sagging bags
1,5 hour surgery performed in local anesthesia
"I bought so many expensive eye creams that I don't even want to count how much it costed me. A visit to the Beautyshape Clinic and lower eyelid surgery helped. I could have saved a lot of money and nerves. I recommend the Beautyshape Clinic. And don't hesitate ltoo long , ike I did." Eva R.
VÝHODY OPERACE SPODNÍCH VÍČEK
ADVANTAGES OF LOWER EYELID SURGERY
The eyes will look visually bigger and more expressive
Disappear tired eye bags and circles under the eyes
Book a personal consultation with our specialist
"I'm 4 months after the procedure and fully satisfied. I recommend Beautyshape clinic in Prague 2. The ophthalmologist gave me a recommendation for lower eyelid surgery. It took three years before I decided to make an appointment for a consultation, where the doctor convinced me that even the upper eyelids need intervention. The blepharoplasty took place without any problems in a pleasant environment and great staff. Today I know that I did the right thing and had absolutely unnecessary worries." Petra T.
Frequently asked questions (FAQs)

Who is a Good Candidate for Lower Eyelid Surgery?
Some of the reasons why you may consider a lower eyelid surgery could be that you have excessive skin and fine wrinkles that give a 'crepe paper' type effect on the eyelids. If you have dark circles or bags under your eyes, Blepharoplasty can help you eliminate these as well. Above all, general good health, a positive attitude, and realistic expectations make you an ideal candidate for the surgery.
What will be my recovery like?
How long will my results last?
Biorevitalisation & redermalization
YOU MAY ALSO BE INTERESTED

Blepharoplasty eyelid surgery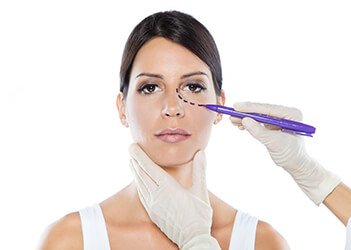 Blepharoplasty eyelid surgery
Blepharoplasty is a Cutting-edge eye surgery and one of the most effective ways to give your entire face a fresh, radiant appearance. Incredible results with minimal downtime, inconvenience or scarring.
Upper eyelid surgery
You face looks always tired with "eye-bags" or a hooded appearance of the droopy upper eyelid skin? Refresh the eyes with upper eyelid surgery (Upper Blepharoplasty). Fast recovery. Get back a younger look!
WE ALSO ACCEPT VOUCHERS FROM OUR PARTNERS
STILL HAVE QUESTIONS ABOUT THE PROCEDURE?
Fill in the form bellow and our managers will call you back