MICROBLADING. PERMANENT MAKEUP. EYEBROW TATTOO
Permanent eyebrow makeup is a solution for women who want to have a more expressive look and beautiful facial features even without everyday make-up. Microblading or powder eyebrows can add depth to your gaze.
MICROBLADING. PERMANENT MAKEUP. EYEBROW TATTOO

WHAT IS PERMANENT EYEBROWS MAKEUP?

Permanent eyebrow makeup can be done with 2 methods with different results. Microblading it is hair technique of eyebrow lining consists in drawing individual eyebrow hairs, which leads to optical compaction and filling the gaps.
Powder eyebrows, on the other hand, create the appearance of eyebrow makeup.
To choose MICROBLADING or POWDER BROWS technique eyebrow is more suitable for you we recommend you to consult with our permanent makeup specialist. With permanent eyebrow makeup, you will reduce the time you spend on makeup every day.
How does permanent eyebrows makeup work?

When applying permanent makeup, the pigments (color) are applied to the upper layers of the skin, where they remain for one to four years. However, the duration of permanent eyebrows effect is very individual. It depends on the general condition of the skin in the area, where microblading or powdered permanent eyebrows is done.
We recommend to consult with a permanent makeup artist upfront about the selection of a suitable method or combination of both, that will show you possible results after applying permanent makeup. Before starting, it is also necessary to discuss with the specialist possible contraindications, such as pregnancy, oncological diseases or some skin diseases in the area where permanent make-up should be performed.
If you have already decided on permanent eyebrows, the specialist will choose a suitable pigment color for you and, using a pencil, pre-draw the shape of the eyebrows, which corresponds to the shape of your face.
All eyebrows permanent make up procedures take place after local anesthesia in this area, so you should not worry about pain, after twenty minutes of anesthetic cream, the specialist makes small incisions with a disposable blade imitating individual hairs on which the pigment is applied. For most clients, the whole procedure is almost painless.
The powder brows or so called ombre brows technique must first be applied to the main contours without applying anesthesia, but this sketch lasts only a few minutes and is not painful. Then the anesthetic cream is applied and the rest of permanent makeup is applied on the numb skin.
After permanent makeup procedure, it is necessary to follow some measures to prevent excessive pigment loss in the skin, such as avoiding sunlight, solarium, swimming pool, sauna, etc. On the first weeks after application, as regular treatment using micellar water and a special nutritional-protective cream.
Often after 4-6 weeks, permanent makeup needs to be corrected. During that final session, the shape and color of the eyebrows will be adjusted.
We work in beauty industry since 2011
INDICATIONS AND BENEFITS OF MICROBLADING EYEBROWS

gaps or scars on the eyebrows
asymmetry of the eyebrows
make eyebrows thicker/fuller
filling in the gaps in eyebrows
eyebrows are more highlighted
achieve a symmetrical and flattering appearance
WHAT ARE THE TECHNIQUES OF EYEBROW TATTOO?

Microblading (eyebrow feathering)
Powder brows (ombre brows)
Combined "3d microblading"
PROCESS OF EYEBROWS TATTOOING

A consultation with a permanent make up artist, choosing technique and color of the permanent makeup eyebrows.
Drafting a shape of new eyebrows with a special eyebrow pencil, an adjustment based on client's feed-back
1st stage of drawing of permanent eyebrows with powder technique or straight application of anesthetic cream (before Microblading).
Final drawing of eyebrows using a disposable needle or blade (according to the chosen method of permanent eyebrows) and pigment.
MICROBLADING. PERMANENT EYEBROWS

Before the treatment, we recommend to have a consultation with a specialist at our beauty clinic.
You will be informed about the all-possible options of the application of permanent eyebrows, about the procedure itself, before and after steps. Those clients, who had permanent eyebrow makeup done with us, we also provide the final permanent eyebrow color correction at a discounted price.
| | |
| --- | --- |
| Microblading eyebrows (eyebrow feathering) | |
| Powder brows (ombre brows) | |
| First color correction after 30-60 days | |
PLAZMATERAPIE PŘÍNOSY A JEJÍ VLIV NA RŮST VLASŮ
HYALURONOVÁ REDERMALIZACE A BIOREVITALIZACE
Podpora produkce bílkovin kolagenu a elastinu
Dodává pokožce potřebnou míru hydratace
Vyrovnává tón pleti a bojuje tak s pigmentací
Obnovuje vitalitu a hydrataci, stahuje rozšířené póry
Výrazný anti-age efekt
Na klinice Beautyshape Clinic jsem už po několikáté a posledně po konzultaci s paní doktorkou jsme zvolily hyaluronovou biorevitalizaci. Z výsledku jsem absolutně nadšená a chtěla bych ošetření doporučit každému, koho začnou trápit první známky stárnutí nebo kdo má problem s tónem pleti. Určitě se objednejte. Jana K.
MICROBLADING. FREQUENTLY ASKED QUESTIONS

What is the difference between microblading and powdered eyebrows?
Microblading creates a natural look by supplementing the individual hairs in the eyebrows, and is thus especially suitable for the optical thickening of too thin eyebrows. The appearance of powdered eyebrows resembles make-up eyebrows, and it can be used, for example, to replace eyebrows that are partially or completely missing in some areas.
How do I need to prepare before a permanent eyebrow makeup procedure?
How long does the permanent eyebrow makeup and 1st correction procedure last?
Biorevitalisation & redermalization
YOU MAY ALSO BE INTERESTED

Lips
Permanent makeup lips are a popular solution for women who want to improve their lips, make them visually larger or add a youthful flush of color to faded lips without the necessity to use makeup every day.
Eyeliner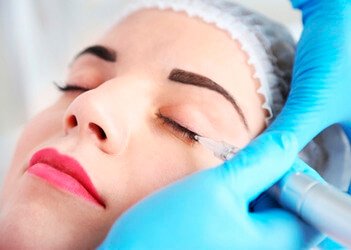 A permanent makeup eyeliner highlights your eyes and makes them appear deeper. A permanent makeup eyeliner saves your time and anxiety with perfect makeup eyeliner every day without makeup.
WE ALSO ACCEPT VOUCHERS FROM OUR PARTNERS
STILL HAVE QUESTIONS ABOUT THE PROCEDURE?
Fill in the form bellow and our managers will call you back